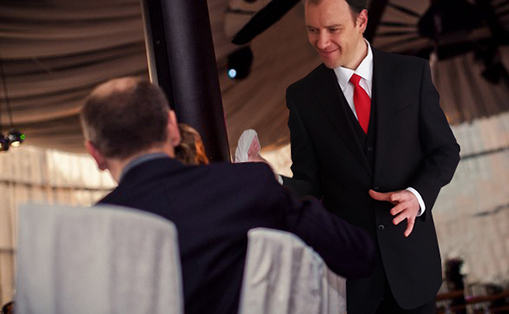 Corporate Magician
Are you looking for corporate entertainment that will leave your guests in shock and awe? If you have an event coming up and have been left with the task of planning the ball, sit down dinner or evening drinks, hire a corporate magician.

Vas Kovalski has performed at hundreds of corporate functions and has a range of experience performing table magic or mix and mingle magic to the highest of corporate clients.
How to best use Vas Kovalski at your Corporate Event.
If you are organizing a corporate event it is important to note that performing for the highest of corporate clients isn't for every magician.

Vas knows this and his ability to perform breath-taking magic is as important to him as his ability to be able to relate to guests – showcasing skill, wit, a level of understanding with people quickly and noticing when the time isn't right to perform is an essential part of Vas's professionalism and experience as a corporate magician. That moment when you're about to a close a significant relationship with a new client won't be interrupted by the "pick a card" cliché.